Data Stealer
Build
Cost
5000
Build Time
1:00
Minion Builders
2
Bonuses
Experience
10
Security
0
Technical
Upgrade Levels
4
Item Limit
 ? per base
Tile Usage per Item
2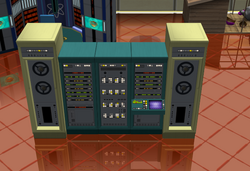 "Evil geeks love pouring over evil data, so build one of these!"
Data Stealer is one of the first resource producers you unlock at Player Level 2. It produces Data, which is needed virtually everywhere. Its production rate is quite high, 180s/unit on level 1, and 150s/unit at 2-4. Data can be sold for 25 gold, meaning that Data Stealer can be used for small income.
Build and Upgrade
Edit
Infiltration
Edit
Flood with useless false data.
Data Stealer's appearance is based on the Databank from Evil Genius.
Data Stealer can, if gathers are timed perfectly, generate 10 gold per minute.